MANDALA DE MASCA
---
Mandala de Masca
Mandala de Masca is a yoga retreat centre on top of the mountain estate Finca La Pimentera in the Masca Valley on Tenerife, the largest island of the Canary Islands. Due to the favourable location at 28 degrees north of the equator, Tenerife has a subtropical climate.
Mandala de Masca was built with much love and care for people and nature. It is set to welcome, to facilitate and to look after group retreats like Yogini rosa. The team of Mandela de Masca is exclusively available to the group.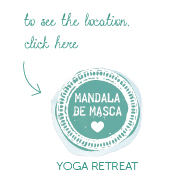 Facilities and more
Facilities included during the seven day retreat are:
Ten double rooms with single beds
Two outdoor yoga decks and an indoor Shala
a spacious yoga living room with open fireplace
a swimming pool filled with water directly from the natural spring
a steam bath (to blow off steam)
six layers of terrace gardens full of beautiful plants and tasty fruit
an outdoor cinema
chickens for the organic eggs
a sun terrace with lovely sun lounges
an open and honest kitchen
enough quiet space to withdraw (into yourself)
Gardens
The estate is filled with exotic plants, palm trees and flowers in a variety of colours and with lovely scents. You can pick ripe fruits straight from the trees and there is always an empty hammock waiting for you in one of the many sheltered places on the beautiful finca. It is lovely to wander around the estate, or go outside the gate to enjoy the beauty of the valley.
Slow Food
Our Yogi chefs are inspired by chefs from different cultures. We have an open and honest kitchen. With slow food meals, healthy bites, healthy drinks and smoothies, we provide everybody with the necessary energy and wholesome nutricients to help with the recovery. The most important organic ingredients are harvested daily from our own gardens.