What can you do to help?
---
. 
Breast cancer changes everything
Women diagnosed with breast cancer often refer to two kind of lives: One before breast cancer and one after breast cancer. Women with 'perfect' prospects after treatment are struggling immensely: How can I stay healthy? Am I still the same person? What are my new priorities? How can I make my loved ones understand how I feel? How can I handle my fear and tiredness? Can I trust my body again? How can I feel feminine again? All questions and fears which often appear after all treatments in hospital have finished.  
Shared journey
Yogini rosa Retreats are specially developed for women who have been diagnosed with breast cancer. A seven day yoga retreat together with a 'sister' (a woman they feel close with) and other women who went through the same process in a beautiful, nice and safe location. The retreat program is developed to create peace and balance, to stimulate renewal and to share experiences on a shared journey.
A Yogini rosa Retreat is organised by the Organisation Yogini rosa with support of the Yogini rosa Foundation. Help to support by donating, sponsoring or come along as a team member during a Yogini rosa Retreat on Tenerife.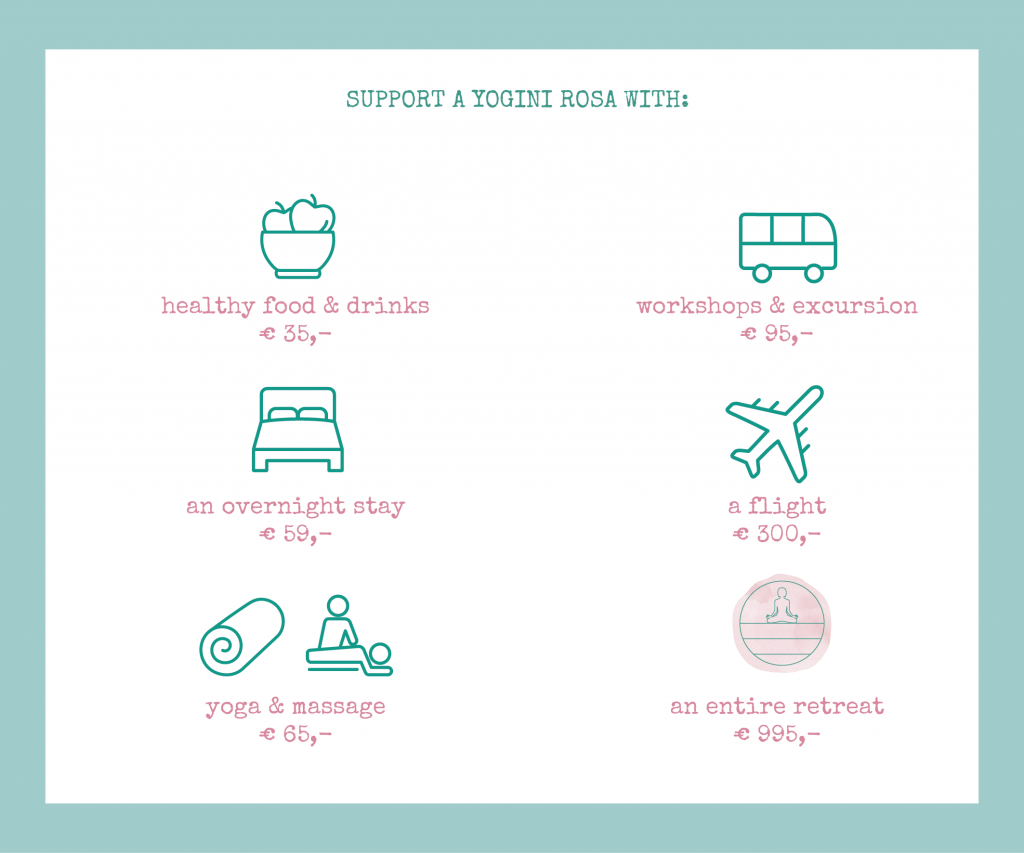 Partners
Do you work at a socially involved company or organisation and do you see possibilities other than the above to connect yourself to the Yogini rosa Foundation? Then we would like to welcome you as well. We are open to all suggestions and ideas which enhances the experience for the women attending the retreat. For example special products or support services to a workshop, yoga practice, excursions or treatment.
Tax deductible donations
By giving a donation to the Yogini rosa Foundation, you support women in their empowerment process after they were diagnosed with breast cancer. There are different ways of donating. You can choose to make a one-off donation or donate regularly. The last option gives you tax advantages.
Regular donation
By giving regularly, you profit from maximum tax advantage, so without limited deductions. Your donation can be deducted annually from your income tax.
How can I make a regular donation?
To make regular donations, fill in our agreement. The agreement is legally binding if you print it, sign it and send it with a valuable passport/identity card to the following address:
Stichting Yogini rosa Foundation
t.a.v. Sabine Dorrepaal
Verspronckweg 83rd
2023 BC  Haarlem
The Netherlands
Or you can scan the signed agreement and send it to commision@yoginirosa.com. To make a regular donation the agreement will be sufficient, a notarial deed is not obligatory.
One-off donation
If you make a one-off donation it is also tax deductible under the following conditions:
– The total amount of all donations in one tax year has to be between 1 and 10 percent of your total income.
– The total amount of all donations is a minimum of 60 euro's.
If you want to know at which amount you are able to deduct donations, contact the tax office.