THE SEED IS PLANTED
– our story-
---
End 1998, I was 28, I heard for the first time I had breast cancer. It hit me in the face. What next? Was I dying? After research in hospital I started the treatment.
Operations, chemotherapy and radiation followed. I went throug it, I did it, I fought because I had no other choice. The cancer needed to get out of my body.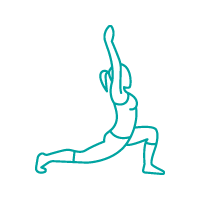 After the treatment, yoga really helped me. It helped me to deal with the physical and mental effects. Because I accepted these effects I could move on.
At the time I wanted to do something for cancer patients and survivors. I thought of organising a nice holiday with people who went through the same process.
An organisation was set up, but it wasn´t put in to action. Together with my partner who stood by me all the time, we lived life. We stepped up onto the career ladder and were surprised to have (despite 5 years of hormone therapy) a beautiful, lovely daughter. We became older and came into a new stage in our life.
And then… I heard for the second time things had gone wrong. Breast cancer again, but now I have a daughter of five years old! That was a different story. I went through it, I did it, I fought, I didn't have another choice. I survived and my thoughts made overtime.
Could now be the right time to finish what we started 18 years ago? I wanted to deepen my yoga practice and so I started my first yoga teacher training. The second training followed quickly afterwards.
The last years have been about yoga, anatomy, deepening of yoga practice, healthier food, mindfulness and meditation. This journey has helped me to discover who I really am and what I really want to do now.
Through Yogini rosa Retreats I want women like me (a yogini) – diagnosed with breast cancer (rosa) – to return to their strength.
I wish these women to find themselves again, to find out who they really are rather than 'being the woman with breast cancer' and accept the effects of the disease.
With help of a retreat full of yoga,  mindfulness, massages, healthy food and the natural healing aspect of similar minded people together in a safe place surrounded by nature.
Monique